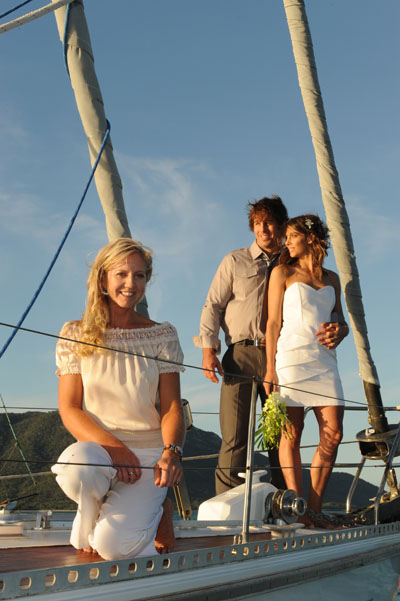 Congratulations
You are about to begin a journey, on board a vessel we call marriage. Excited & intoxicated with anticipation of the extended voyage and its carriage...
Hello my name is Donna Fornasiero; I am an authorized Civil Marriage Celebrant and a Commissioner for Declarations.
I am also one of the few female commercial skippers in the area of the Whitsunday Islands area.
I have resided permanently in Airlie Beach, "The Whitsundays" since 2000. My work as a commercial skipper brought me up here and since that time I have fallen in love with the area with its beautiful scenery, its turquoise blue waters and its magical atmosphere of serenity.
Marriage Celebrants are appointed by the Attorney-General to authorise marriages within Australia.
The reasons behind my deciding to become a celebrant were, when I was out on charter my guests on the boat were always asking if I could marry them, legally unfortunately you cannot unless you become authorized like myself. I also thought at the time what a beautiful idea, how traditional and romantic.
If you own a boat or plan on chartering one while in this beautiful area, I may act as your Captain/Skipper and also your Marriage Celebrant.
Providing you guidance to help you find the perfect place.
I am happy to officiate from small private weddings to large family gatherings. Every Ceremony I compose and design is written with love and warmth and personilzed to each individual couple. I see myself as a vibrant modern celebrant, with high regards to commitment to detail and providing a service that suits the needs of the couple. It is your wedding and you should get what you dream of.
Please feel free to contact me on 0427040972 or email me on dforno (AT) hotmail (DOT) com
For More Wonderful Photos, Rituals and Testimonials please
CLICK ON MY Facebook page
link
Donna Fornasiero Whitsunday Celebrant

or find me on

INSTAGRAM

The Sailing Celebrant

NEW WEBSITE
www.thesailingcelebrant.com.au